Using XP as a currency system is what this thread is dedicated to. Not what actions garner XP (that will be it's own thread), but what XP should accomplish and when to distribute it.
Normally XP just indicates what level you are and how far you are away from the next level. However that is a stagnant system and XP just becomes a stale part of the game. The hope is that we can make XP a vibrant and useful part of the game.
Players will not just be focused on how to gain XP but how they can spend it. This will make the game more simple in a way. It can actually remove the whole "Talent/Feat" part of the game. And this can easily tie into the "Sphere Grid" idea.
Ok, I just looked up the FF10 Sphere grid and one thing that stood out to me was that it seemed very linear. Meaning, you couldn't get a specific ability without getting previous ones in a particular set. While I like the concept, I would like to suggest that we do it more open. Not completely open but allow the PC's to have more of an opportunity to create their character as they like. My ideas follow.
Let's start:
1. Each player starts in a segment of the "sphere" with zero XP. Let's call it the "Zero Point". Each point from the Zero point gives the PC another "Ability/Talent/feat/skill" etc.
2. Each "point" connects to other points. We can have it connect to 3, 4 or 5 different "Points". Each "point" going in very different customizable directions. For example, "North" could be combat. And in the "Combat" section of the sphere you can break it down even further and have different sections for Hand to hand, Melee weapons, Short ranged weapons, long ranged weapons and special attacks.
2b. Each section of the sphere can be subdivided as much as you like. The more subdivided the more unique each and every character can be. Each subdivided area will need to be equal and have the same amount of points, this way, it is easier to gauge the difficulty of each ability (point on the sphere).
3. The first thing we need to do is figure out how many different "Sections" of the sphere we want. Each section should be a main focal point of the characters development.
4. Then we can start to fill out each "Section" and assign an XP value to it.
First attempt at building a rough draft. This is no where near what I was thinking but it gave me an idea of how to proceed with the sphere. Each "point" is a different ability that the PC can purchase with their XP. The PC can go in whichever direction he/she wishes and build out from the "Zero Point".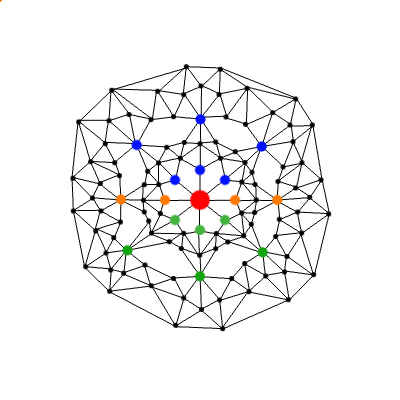 Notice the different colors. This indicates the different segments of the sphere. Also the big colored points can be used as special abilities and can cost more XP to buy. These are also the only ones that are "Bottle Necked" and you can only get to them from certain other ones. All other points are accessible from other areas.
The Sphere can grow even larger and larger beyond what I put in this mock up.